Nautilus GPS Update v3.2.5
Nautilus Marine Rescue GPS – Firmware Update v3.2.5 & Upgrades
We are excited to share some significant updates for the Nautilus LifeLine Marine Rescue GPS.

Our new Position Advisory feature is perfect for divers or other marine enthusiasts. You can now send your position to boats in the area without triggering emergency status. This is a great option for communication on the water. To activate the position advisory sequence, follow these steps:


Press and hold the yellow Nautilus GPS Test Button for 8s. After 3s of holding the Test Button, YELLOW indicator will begin flashing for the next 5s. After 8s, YELLOW indicator will briefly become solid again and then resume flashing. The Test Button can now be released.


YELLOW indicator flashes quickly when GPS location determined.


Nautilus GPS will now continuously transmit a Non-Emergency Position Report. This message will be received by all surrounding ships with AIS receivers. In addition, if you have programmed a ship MMSI (see page 7), the message will be received on the ship's VHF radio.


Hold Test Button for 5s to deactivate Non-Emergency Position Report sequence. YELLOW indicator will turn solid and BLUE indicator will begin flashing. This sequence will not send an emergency distress message.


Please refer to our updated operations manual for full instructions on these procedures. https://www.nautiluslifeline.com/manual-support/
Upgrade your LifeLine
Our current units, with the upgraded firmware, now also ship with a small screwdriver to assist in battery changes.  If your unit did not ship with a screwdriver there is a firmware upgrade available to you.

The upgrade will cost $35 USD + one-way shipping. We will cover the cost of shipping back to you! The upgrade includes updating to the latest firmware, new antenna retainer, screws, screwdriver, and o-ring maintenance.

To get started with the upgrade process, please complete the form below. We will get in touch as soon as possible and provide instructions for return.
Questions, concerns, or comments? Please get in touch with us. We would love to hear from you!
Categories
Recent Posts
From "Simple Dive" to Search and Rescue
We are glad to be included in the feature article of Dive Training magazine's September/October 2018 issue.
The double feature article written by Karen Straus covers numerous aspects of diving safety, and includes words of wisdom from experienced dive professionals.
Read the full September / October 2018 issue at DiveTraining Magazine's website.
Dive safe. Always dive with a Nautilus LifeLine.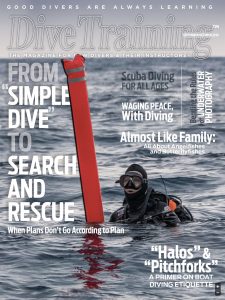 Firmware 1.02 has a number of notable changes over previous versions. Some customers have received units shipped with 0.94 and 0.96, and these should also be updated to the latest version 1.02. Please check with your dive buddies and make sure they have updated to the most recent firmware too.
Important changes in firmware 1.02 since 0.76, the previous major release:
Fixed a firmware squelch issue that affected a number of units
Complete overhaul of the user interface (UI), making accessing and changing settings significantly easier and more intuitive. Read the Operations Manual updated December 2013, and the section "New Firmware Features – Firmware Newer Than 0.80", on Page 12 in the English version.

Access the new menu by pressing the Orange button at any time, or use the old method of pressing both Green and Orange buttons for 1 second
Advance through menu items with a short press on the Green button
Select menu items or enter sub-menus with a short press on the Orange button
Save a change by pressing and holding either the Green or Orange button for half a second
While in any menu, a long press of 1 second on either button will return to the main screen and start transmitting on the selected channel
See the full menu structure and detailed instructions about its use in the Operations Manual

Continuous Position Report mode from the Red button, previously selected from the desktop software, has been removed. The DSC button now has only one purpose.Single position report messages can still be sent from the Messages sub-menu.
DSC Messages can be sent and reviewed from the Messages menu. Press the Orange button once to enter the menu, the Green button three times to get to Messages, and the Orange button to enter the Messages sub-menu.
New icons for more intuitive display, described in the Operations Manual
New audible "beep" feedback for:

several beeps on device start to warn that an MMSI number has not been entered
single short beep to signify entering or moving through menu items
single long beep to signify setting change confirmation
several beeps when holding the Red button when activating distress mode
single beep immediately prior to transmitting a DSC message
single beep warning 10 seconds before device goes to sleep
single beep when receiving a DSC message

Added support for listening to WX weather channels
Added a Distress Simulation mode, and SOS Flash, accessible from the Procedures sub-menu.
Testimonials & Stories
To the Nautilus Team, Your Nautilus LifeLine GPS (new version) saved our asses today. We (6 divers) were drifting an hour offshore in big swells and strong current. The boat skipper lost track of our bubbles through no fault of his own. When we didn't surface after an hour, he sent out a signal alerting all boats in the area. Meanwhile we inflated our sausages, but a couple of passing boats either didn't see us or didn't want to. After 45 minutes of drifting, K triggered her LifeLine. Another boat finally saw us and picked us up. Just then two helicopter circled overhead, one from the fire department and one from the coast guard. If the boat hadn't spotted us we still would have been rescued. I have to admit I didn't bring my LifeLine this trip, but am thankful K brought hers. I'll never again go diving without it. Thanks,
It has been the experience of your correspondent, and that of many others in the past, that safety in diving doesn't sell. Just as car buyers offered the choice between an entertainment system or more airbags will choose the former, divers are just the same. They know bad things will never happen to them so have no inclination to spend on emergency safety gear. One of diving's great risks is being swept away. As one old hand observed 'In a current you're like a leaf in the sea'. And if it's a bad day and seas are up and the current's running things rapidly get very hairy. Recently four of us went out on a less than perfect day to dive a wreck about half a mile offshore in 51 metres. Breeze was 15 knots gusting 18 and blowing from the shore, current about one knot heading south. The other three were all breather divers and planning to spend 30-40 minutes on the bottom with a run-time of roughly 1hr 40 min total. I was going to dive open circuit for a lesser bottom time but, looking at the wind, sea state and current, opted to boat for the others. Two had scooters. One, let's call him Jeff, scootered away from the wreck after a short time on the bottom, and realising he was lost did a blue-water bag-ascent. His irresponsible mates carried on their original plan, disregarding the disappearance of their erstwhile buddy. The wind speed picked up to 25 knots, gusting 30 plus with the sea state deteriorating. Jeff surfaces way down current after a bag deco, his safety sausage blows flat in the breeze and his scooter is only powerful enough to hold station in the current, not to make headway back towards the boat and I'm not keeping a sharp lookout this early in the dive plan. He's smart enough to know he's in trouble and cool enough to look for assistance. By now the deteriorating conditions send recreational fishos in their runabouts back to shelter. Two pass by in Jeff's vicinity but are oblivious to his efforts to attract them. The third almost runs him over before he sees Jeff and stops to take him on board. Meanwhile I know nothing. I see from my chartplotter the other two miscreants have pulled the anchor so I lay out a sea-anchor to stop a drift to New Zealand while these guys do their hour long deco. First one back on board has the temerity to ask 'Where's Jeff?' I think his ears are still ringing from the abuse I heaped on him for not aborting the dive when one of the party disappeared. Then the search was on. Sixty minutes of pounding through heavy seas, working out how far a diver would have drifted in an hour and a half, searching likely drift patterns and half expecting to find a body. I had alerted Marine Rescue earlier, first of all with a heads-up when the divers were down and the weather was going bad and then again when the search started. Our stress ended on getting a VHF call from Rescue to say our missing diver was on the boat-ramp jetty back in Botany Bay. He alighted from his rescuer's boat just as the Marine search vessel was preparing to leave the same jetty to look for him. All three of these characters, having learned a first-hand lesson of how bad things can get when conditions turn nasty, went out the same day and bought a Nautilus Lifeline submersible GPS/VHF radios, with two others of my regular diving mates following their example. Nothing like a bit of sphincter puckering to bring reality home and to encourage investing in a life saving device. From Dive New Zealand & Dive Pacific A/M 2012 Issue #129.
The Maldives, Truk, Palau, Grand Cayman, Komodo, next Raja Ampat, I am a trip leader for the Pan Aqua dive shop in New York, and an underwater photojournalist. These days I don't leave home for any those places without my Lifeline, and I encourage all my travellers to add a Lifeline to their dive gear. Why? Because !#$% happens! You've been there: the current that picks up and starts to move you off dive site, the small boat entry in the wrong place and now you're in a ball of jacks being fed on by Bronze whalers not on the planned dive site and you and your dive group had best get out of there quickly, the sunset dive that left two divers unaccounted for, and that ripping current just under the surface in the Solomon's that was going to take you who knows where... these are the remembered reasons why I always bring my Lifeline and strongly encourage those traveling with me to get their own. Then there's always the added benefit of talking to each other. Fortunately I haven't had any of those problems recently, but next time they happen, I and my dive group will be prepared and we won't be floating alone on a small piece of some remote ocean wondering when the dive boat will miss us and come looking. This time our Lifeline is our safety net. Maria Hults Photojournalist Adventure Travel Leader Beneath the Sea Vp Woman Divers Hall of Fame member (2000)