The original Nautilus Radio has been discontinued.
Full technical support is still available.
Nautilus LifeLine Radio puts safety into the hands of everyone in, or on the water. Nautilus LifeLine Radio is depth rated to 425 feet (cap closed) and is a very simple, but incredibly clever way to call or send a distress message to boats around you up to a demonstrated range of 34 miles. The Nautilus LifeLine Radio works everywhere in the world.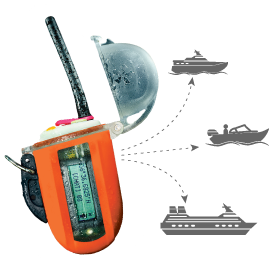 Firmware 1.02
Firmware version 1.02 incorporates an updated user interface that is very intuitive. For a full explanation of the changes, please see page 12 and page 13 of the Operations Manual (Available Below). Please follow the steps below if you are interested:
Latest: Feb, 2015
Firmware Update (V1.02)
Nautilus LifeLine Radio Downloads